 Comprehensive Case Management
Services Offered
Through comprehensive case management, supportive counseling, and resource identification and linkage, North Palm Seniors provides older adults the essential resources to safely age-in-place.
In addition to individual case management services, North Palm Seniors arranges volunteer education and training for older adults (age 60 and over) attending senior centers and Adult Day Health Care locations throughout the county.
Navigating the health care and social service systems can be an extremely difficult process, especially for caregivers who reside out of the area. Comprehensive case management helps families and caregivers who are assisting older adults in their efforts to access needed services and improve quality of life. Specific needs, supports, barriers and strategies to increase resources can be identified through the use of comprehensive assessment, development of a care plan, and monitoring of the care plan.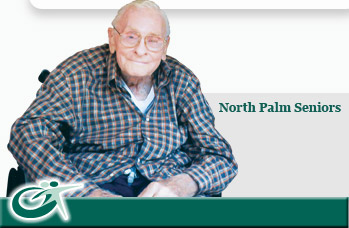 Dedicated to Helping Seniors Age in Place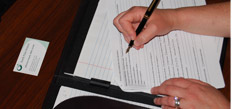 The person-in-environment perspective is one of the main components of social work practice and is the driving force when creating a care-plan. Creating the care plan in partnership with clients allows for the continued self-determination of clients served.
The expected outcomes of case management services are the following:
Access to needed resources (health care, housing, and social services)
Ability to navigate and negotiate for resources
Improved continuity of care and services
Increased independence and empowerment
Improved quality of life
Some components of comprehensive case management are:
Initial in-home comprehensive assessment
Development of a care plan
Coordination of services necessary for safely aging in place
(i.e. medical alert products, medical appointments, transportation services
to medical appointments, nutritional services, senior center activities or adult day health activities)
Safety Assessments of the home environment
Care Plan Monitoring (3 to 6 month follow-up)
Telephone follow-up contacts (frequency based on needs identified in the care plan)
Supportive Counseling
Social isolation, depression and anxiety are a few of the issues that are common in older adults. Emotional support from a licensed professional can reduce the feelings of depression and anxiety associated with common issues in older adult life.
Supportive counseling provides encouragement and guidance to clients in an effort to help clients develop his or her own strengths and resources needed to manage the emotional issues being faced. The provider creates a supportive relationship and safe environment and assists in focusing on positive aspects of character, solutions to the problems being presented, and the coping skills used in dealing with problems faced in the past. Many of the tools used in supportive counseling are borrowed from Cognitive Behavioral Therapy, Solution-Focused Therapy, Motivational Interviewing and Problem-Solving Therapy. All of the techniques used concentrate on the positive aspects of clients and situations, and assist in challenging negative thoughts and feelings thus promoting a more positive outlook.
Supportive Counseling Expected Outcomes:
Increased level of pleasurable activities
Increased coping skills
Improved emotional health and quality of life
Caregiver Support
A caregiver can be anyone from a family member, a friend, a neighbor, or any other individual who offers assistance to a person in need. Caregiving can cause financial and emotional strain on a person, which can result in increased stress and a decrease in the quality of life experienced.  The first step in finding support for caregivers is identifying the stressors associated with caregiving and creating strategies to minimize those stressors.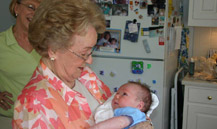 There are several measurement tools that can assist in determining caregiver burnout and stress. These tools can be useful in developing a strategy to minimize the strain placed on caregivers, and in determining what resources are available and appropriate for the situation.
The expected outcomes of caregiver support are the following:
Access to needed resources (respite care, support groups)
Increased support system
Improved quality of life